Well, in case you ever wondered how to configure DukaPress shipping, then this is the post for you.
First things First, DukaPress Shipping is located under DukaPress>Settings>Product management>Shipping Options. As such: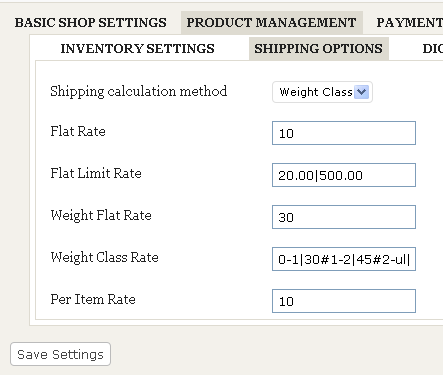 Let's go through how to set up each of the individual shipping processing methods one by one.
1. Free
Well, in this mode, you will not charge your customers anything for shipping.
2. Flat rate
This means that your customers will be charged one shipping rate regardless of how much they buy. The value you enter into this field has to be a number.
3. Flat Limit Rate
Use this method when you want to charge a flat shipping rate on all orders BUT want to offer free shipping for orders above a certain value.
You have enter the value for this mode in this format: 20.00|500.00. Here a shipping fee of 20.00 is charged till the total price of cart is greater than 500.00. After total price of cart exceeds 500.00, no shipping fee is charged.
4. Weight Flat Rate
This will only work if you defined your products weights (must be in grams) when you were creating your products.
A flat or uniform shipping rate will be charged for every kilogram of the goods in the customer's shopping cart.
For this option, just enter the amount of shipping fee per Kilogram in the format of 20.00 – in this case, a shipping fee of 20.00 will be charged per Kilogram (Kg).
5. Weight Class
This will only work if you defined your products weights (must be in grams) when you were creating your products.
This method is suitable if you are faced with a situation whereby you want to charge a different shipping fee for different weight categories.
For example: If you want to charge all order which weigh between 0 and 10 Kilograms (Kg) a different rate from products whose weight is between 11Kg and 15Kg and you want one more rate for those products whose weight is greater than 15kg.
For the above example, the value has to be entered in this format: 0-10|5#11-15|8#16-ul|15. Here for cart weight between 0kg to 10Kg, a shipping fee of 5 is charged. If the cart weight is between 11Kg to 15Kg, 8 is charged as the shipping fee. If cart weight exceeds 16Kg, then 15 is charged as the shipping fee.
6. Per Item
In this mode, a flat shipping rate is charged for every item in the shopping cart. Just enter a number into the field to make this work.
Other Shipping Rates
At this moment, the above are the only shipping modes officially supported by DukaPress. However, we shall shortly be releasing two new modes:
A location based shipping mode that charges different rates for different places. This mode will optionally work in tandem with the Weight Class shipping mode.
Support for shipping powered by Fedex.
That's all folks!
If you have a question or need any clarification please leave a comment. We'd also appreciate any other feedback.