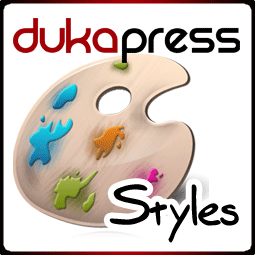 There are probably millions of WordPress themes out there. So, what if you the perfect theme for your WordPress site and you want to use DukaPress but make it look good (instead of the default plain out of the box DukaPress)? In that case, you can:
Hire someone to make DukaPress match your theme colours and design (this may be expensive); OR
Do it yourself (this may be time consuming – assuming you are comfortable with CSS); OR
Use the all new DukaPress Styles
What is DukaPress Styles?
Styles is a Premium DukaPress Addon that will take any WordPress theme and transform it into an elegant, beautiful DukaPress-powered shop. And you know what? The best part is that you require absolutely NO coding knowledge to make your shop look all fancy.
Have a look at these three demos that show what you can do with DukaPress styles (we created each in about two minutes with absolutely no coding):
Demo 1 – your average shop with nice and colorful buttons
Demo 2 – the products on the Grid page are in a black background with the product name and price not shown
Demo 3 – all the "e-commerce" "things" have been removed – no "Add to cart" buttons or prices. This is just a nice and cool catalogue/gallery.
More specifically, DukaPress Styles allows you to:
Customize DukaPress to match your theme/site design!
Create buttons to make shopping on your site a pleasurable visual experience
Customize your shop design in a graphical interface that is easy to use and intuitive
Change the color of "Add to Cart", "Epmty Cart, and "Checkout" buttons among other things
Show/hide "Add to Cart" button
Show/hide Price
Show/hide Product name
Show/hide Product images (either the thumbnails or the large main image)
Show/hide the border around products
Among other things
Benefits of using DukaPress Styles
You can easily modify your current theme to look great with DukaPress and save on buying an expensive new theme
Styles makes it easy to customise your shop design with no CSS (or any other) knowledge needed
You can change the look and feel of your shop every week day in less than five minutes
So, you want to make your shop look good? Get DukaPress Styles!
Please note that purchasing DukaPress Styles helps in supporting the DukaPress project.