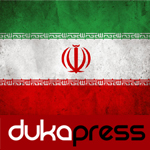 I am very happy to announce that DukaPress is now available in the Persian language. This is all thanks to the work of a gentleman named HamidReza Kazemi. Thank you so much Hamid, we appreciate this very much.
Hamid also happens to own the Heam Web Design Studio (Facebook Fan Page). Head on over there if you are interested.
Well, it seems we're on a roll as far as language files are concerned, eh? Thank you everybody.
You can find the language files here: http://plugins.svn.wordpress.org/dukapress/trunk/languages/
Update 10 Sep 2011 – this translation file has been updated.
(Picture provided by Hamid)